Books
Introducing the Fall 2020 Bridgewater Brides books!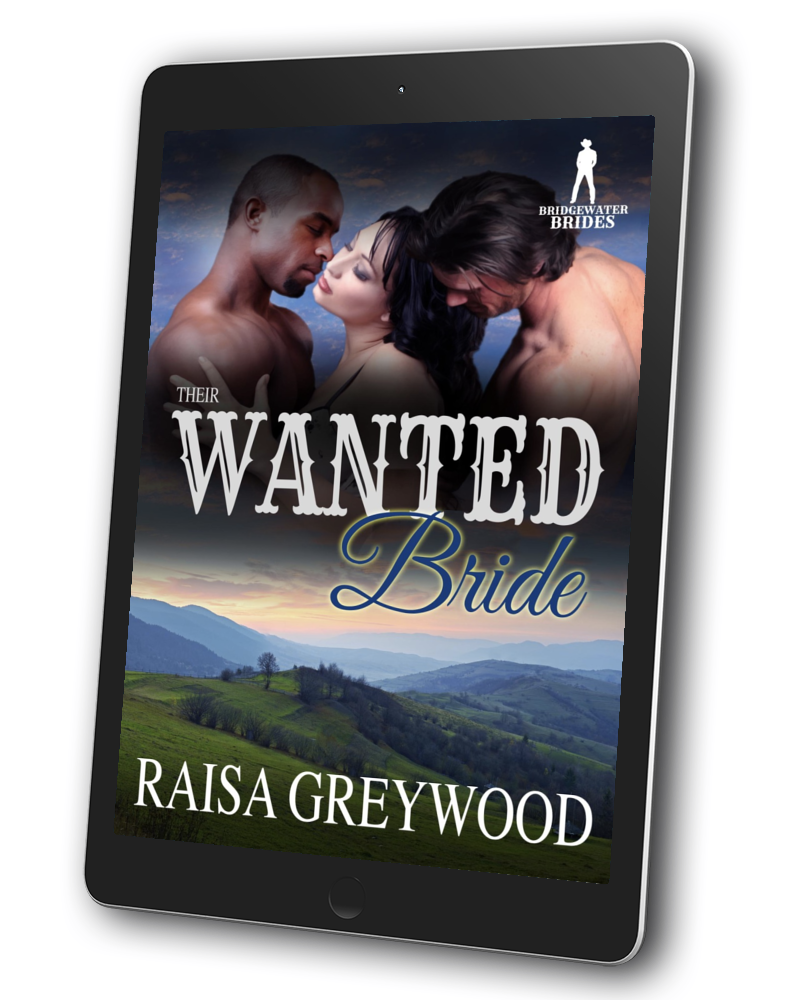 THEIR WANTED BRIDE by RAISA GRAYWOOD:
Desperate to escape the ruthless clutches of a man who wants her only for her inheritance, the lovely and daring Madelaine O'Connor flees on the first train west. Her hopes for safety and love rest far away in the hands of a stranger in the Montana Territory. She soon discovers she's bound to not one man, but two. These are Bridgewater men, who together, will claim Maddy in the most intimate of ways.
But everything isn't as perfect as it seems, for trouble follows the wanted bride all the way from Kentucky. Can they survive the threat to their love… and their lives?
Amazon | Apple | Nook | Kobo | Universal
---
THEIR BLUSHING BRIDE by CELESTE JONES:
Prim governess Lily Snow encounters brash cowboys Keane and Rye and unladylike desires nearly overtake her. When they rescue her from an assault by her unscrupulous former employer, the men offer her protection and something more. A marriage in the Bridgewater tradition of two men and one lucky woman. Because of her chaste upbringing, she truly is their blushing bride.
But not everyone is willing to let the families at Bridgewater live in peace. And when Lily disobeys her husbands and endangers all their lives, it could lead to devastation for them all.
Amazon | Apple | Nook | Kobo | Universal
---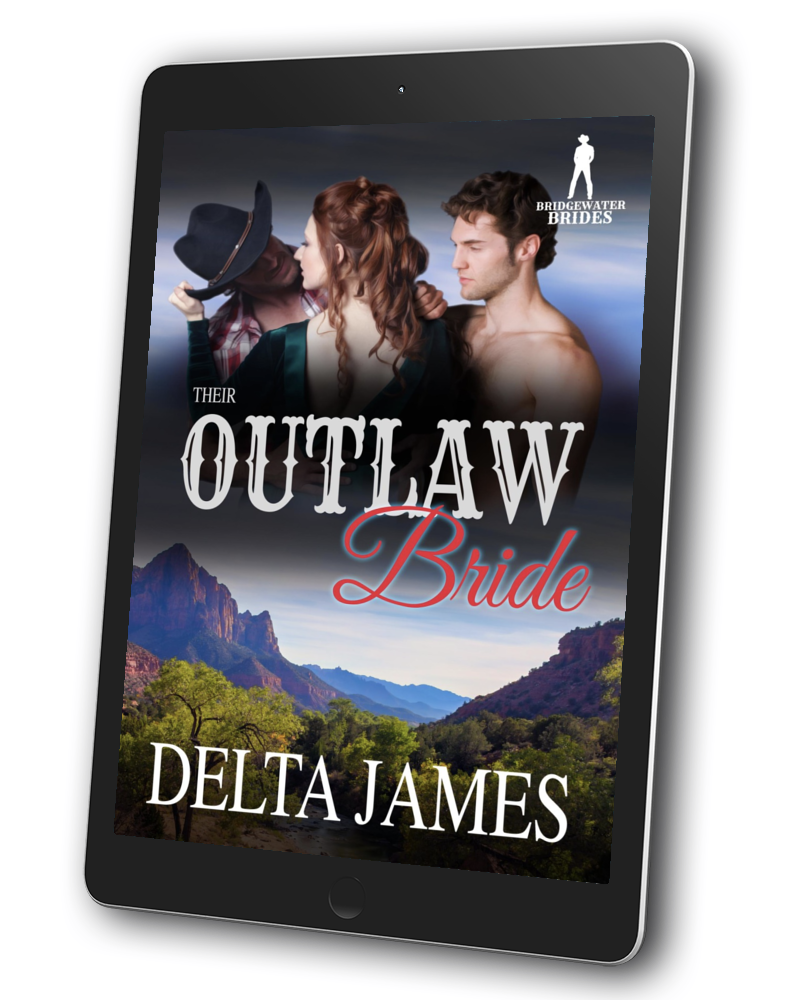 THEIR OUTLAW BRIDE by DELTA JAMES:
Elizabeth Morgan is a rustler and an outlaw through and through. She's been captured and awaits a noose about her neck.
One look at Lizzie and Gavan MacLean knows he's found the woman who will be his. His and Caelan MacAllister's. The brave and fiery woman will be their Bridgewater Bride, if they can keep her from being hanged.
To the two rugged cowboys, saving Lizzie's life is the easy part, for now they will have to tame their outlaw bride.
Amazon | Apple | Nook | Kobo| Universal
---
THEIR GOLDEN BRIDE by ANN MAYBURN:
Rowan's journey west is supposed to be golden, as in California gold. Instead, she's abandoned along the way by her brother and left to fend for herself. Sick and with barely two cents to her name, she is close to losing hope. Just when she needs it the most, her salvation comes in the form of two incredibly handsome strangers.
Edward and Garret take one look at their damsel in distress and decide she will be theirs. But Rowan won't give up easily on her dreams of striking it rich, and the men will have to convince her that the greatest prize of all is to stay and be their Bridgewater Bride.
COMING OCTOBER 8!
---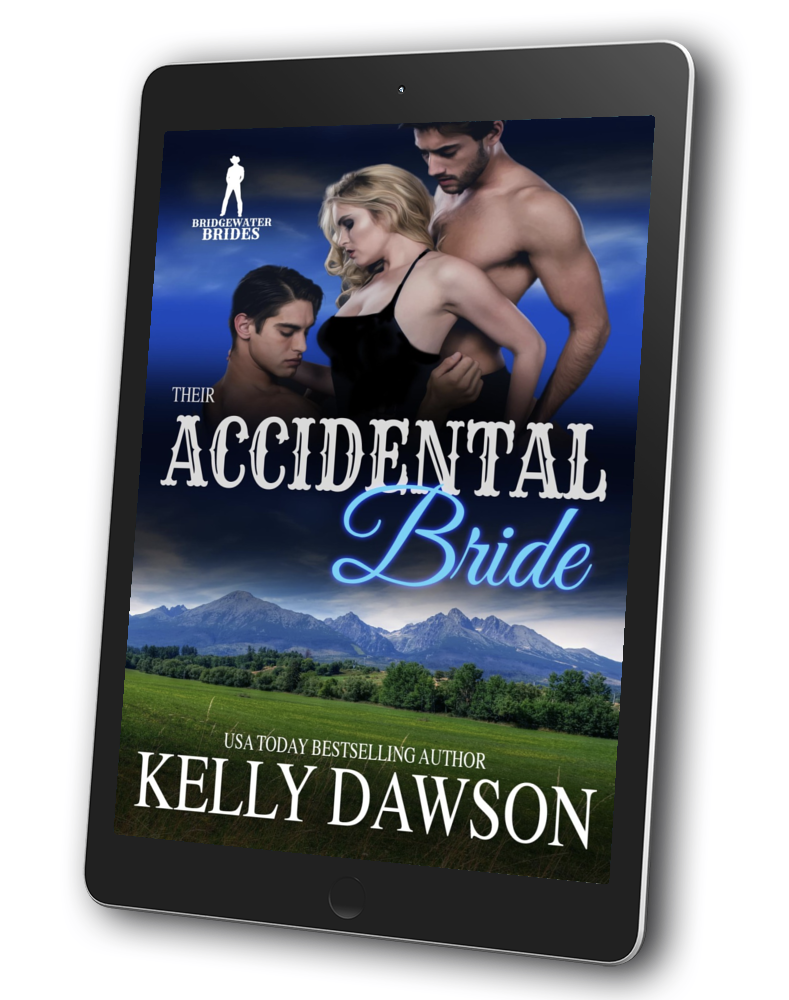 THEIR ACCIDENTAL BRIDE by KELLY DAWSON:
With a gambling wastrel for a brother, Elise knows she must marry. It will be to either the wealthy man who will pay the huge debts or as a mail order bride. The choice is a hard one, but easily made. She's on the first train West to a new, uncertain life.
Shane and Roscoe aren't seeking a wife. But when they rescue a beautiful woman who is unskilled in the rugged ways of the Montana Territory, their minds are quickly changed. Elise is the one for them. The one they will share together in the Bridgewater way. Unskilled in all things a wife should know–in and out of the bedroom–the two men patiently teach her, to everyone's pleasure and satisfaction.
Trouble finds Elise and will destroy everything she and her husbands have forged together. Elise might be an accidental bride, but will Shane and Roscoe risk everything to save the woman they love?
COMING OCTOBER 15!
---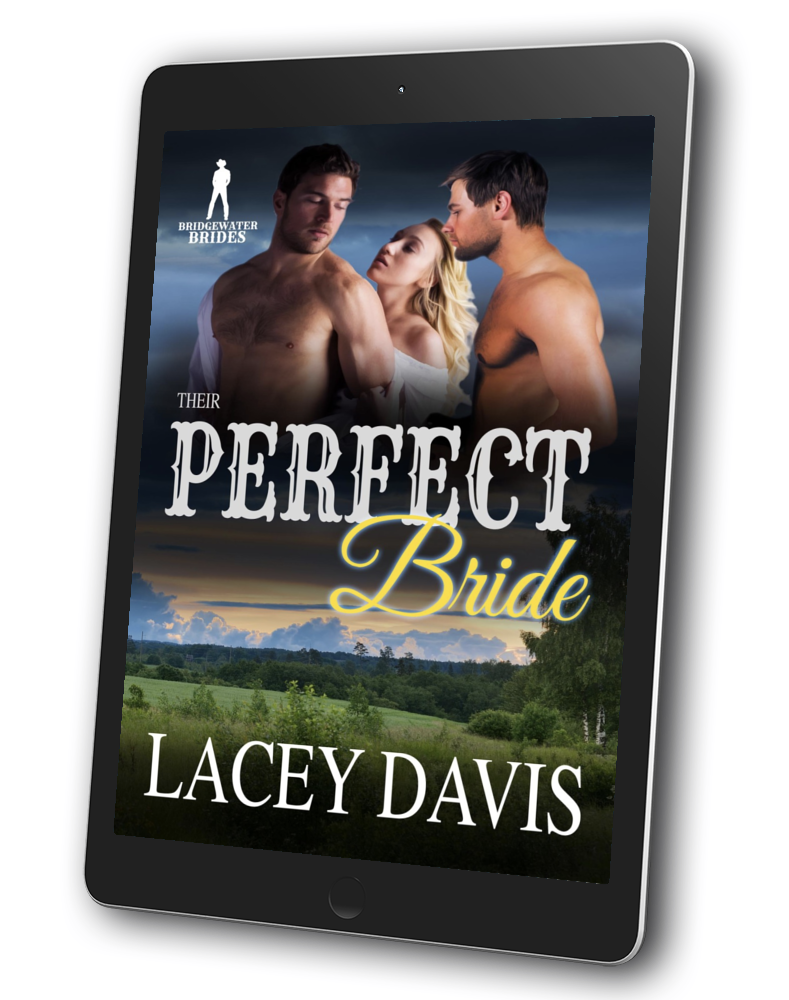 THEIR PERFECT BRIDE by LACEY DAVIS:
Two bold cowboys might be able to tame a wild mustang, but a bride?
An unmarried woman in the Montana Territory is a dangerous thing to be, especially one with money to her name. Mattie Byrne finds herself fighting off the unwanted advances of her stepbrother, Frank, keen on having her and her inheritance. Fortunately, she's rescued by not one, but two, Bridgewater men. Alex and Jessie take one look at the feisty blonde? and they know she will be theirs, that they will cherish and protect her. With her mother ill, they vow to the dying woman to keep Mattie safe by putting a ring on her finger. To make her theirs.
But marriage can't guard her completely. Can Mattie, Alex and Jessie overcome the past and create a future that satisfies them all? Will Mattie become the wife the two men have dreamed of possessing? Or will it all be destroyed by lurking evil?
COMING OCTOBER 22!
---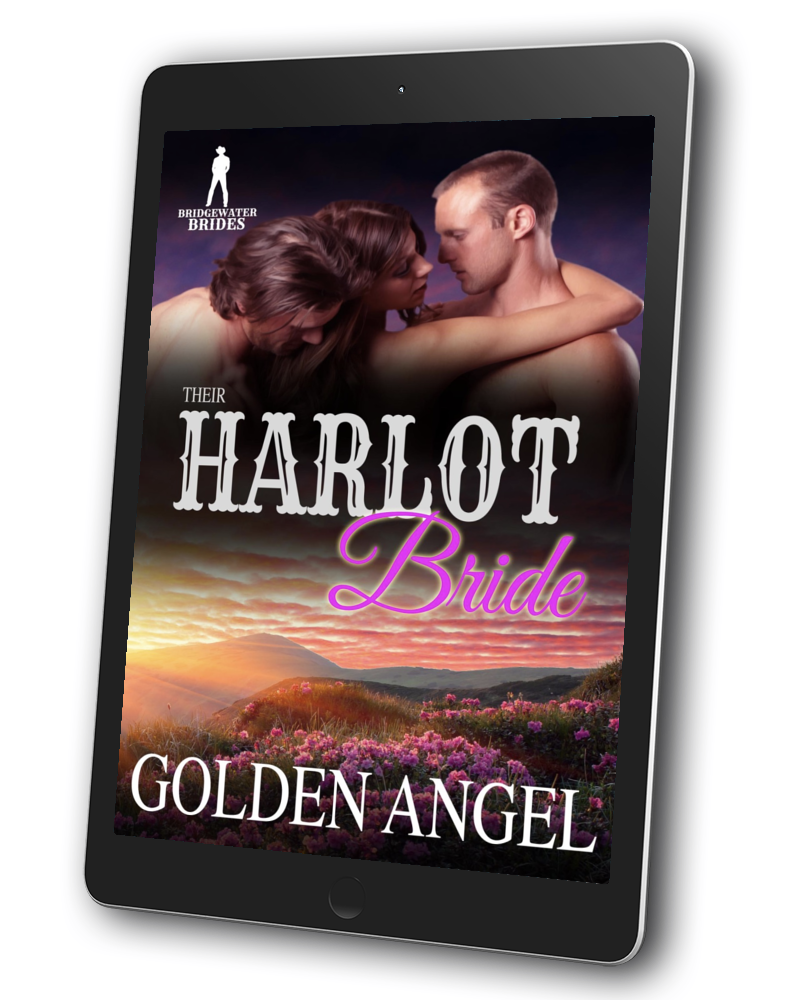 THEIR HARLOT BRIDE by GOLDEN ANGEL:
As successful Bridgewater men, Clive North and William West are only missing one thing: the love of a good woman they will share. Despite Clive's skepticism, William places an ad for a mail order bride. Though neither man has high hopes when the ad is answered, both are stunned at the arrival of the most beautiful woman they've ever seen.
Desperate and on the run, Sassy McCloud travels as far from her old life as possible. Escaping the vengeful Lord Carmichael takes her across an ocean and all the way to the Montana Territory to be a bride, sight unseen. She finds passion she never knew possible with not one husband, but two. Love may not be enough. Can two brawny cowboys protect her from her past and all of the secrets that followed her?
COMING OCTOBER 29!