Series Guide
Click here for a printable Bridgewater Menage Series Reader Guide.
---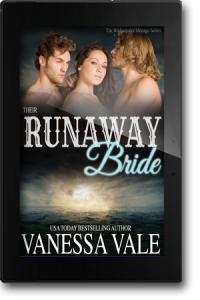 Their Runaway Bride – Book .5 – A series prequel
Forced to marry by her father, Ann runs away only to be rescued by two military officers.

Robert:
Lt. Colonel in US Army. Dark beard is soft against skin in very special places.
Andrew:
Army captain, thinks good girls are allowed to have very naughty thoughts.
Ann:
Is a good girl who discovers she likes very naughty, very dirty things.
Available for free. Click here.
---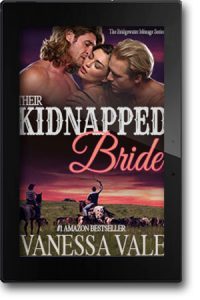 Their Kidnapped Bride – Book 1 – FREE!
Sold to a brothel, Emma is bought and married to two cowboys from a virgin auction.
Kane:
Doesn't hesitate to outbid scoundrels to save a woman.
Ian:
His Scottish brogue has Emma dropping her drawers.
Emma:
How can she resist two dominant men, especially in bed?
---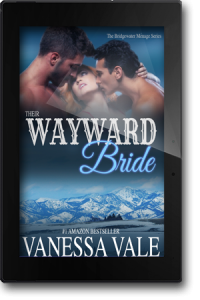 Their Wayward Bride – Book 2
A cruel fiancé drives Laurel into a blizzard and is saved by two Englishmen.
Mason:
Likes a good snowstorm, especially when he finds a woman.
Brody:
Makes use of the dinner table for more than just meals.
Laurel:
Sleeping between two men is a great way to stay warm.
---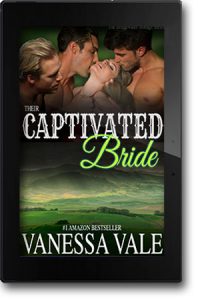 Their Captivated Bride – Book 3
Three men marry Olivia to protect her from a dangerous man.
Cross:
The American who likes to watch Olivia play… with her men.
Rhys:
Likes to read literature and dominate his bride.
Simon:
Doesn't know gentle persuasion, only brash demands.
Olivia: Because two cowboys are not enough.
---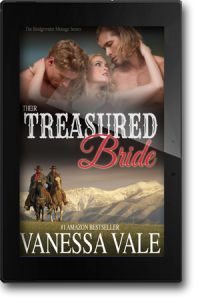 Their Treasured Bride – Book 4
Before her brother dies, he proxy marries Rebecca to a fellow soldier—and his friend.
Connor:
A surprise bride is better than he imagined.
Dash:
Doesn't mind spanking a willful wife.
Rebecca:
An English rose, she doesn't wilt under her husbands' demands.
---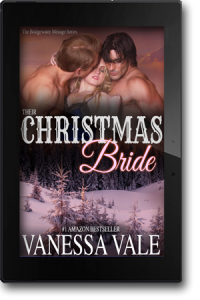 Their Christmas Bride – Book 5 – A holiday novella
After nasty rumors are spread, Allison flees town, but two dominant men have other ideas.
Quinn:
He has no qualms about claiming his bride in a jail cell.
Porter:
Being married on Christmas Day is the best gift he could receive.
Allison:
She'd fled town but never expected to be captured.
---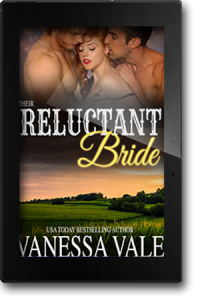 Their Reluctant Bride – Book 6
A widow accepts marriage to two cowboys for protection against a blackmailer.
Tyler:
His parents may have had a plural marriage, but he wanted one of his own.
Xander:
He pushed his bride to do things she never imagined.
Emily:
She never did anything like this with her first husband.
---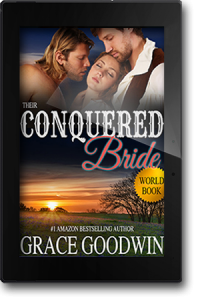 Their Conquered Bride – A World Book (Read as Book 6.5)
By Grace Goodwin
A mail order bride is saved from a cruel bridegroom by two possessive foreigners.
Ford:
She might be the old lech's mail order bride, but he wasn't letting him get his hands on her.
Logan:
If Lizzie wanted it, he'd give it to her.
Elizabeth:
Her carnal desires, once expressed, became reality. Again and again.
---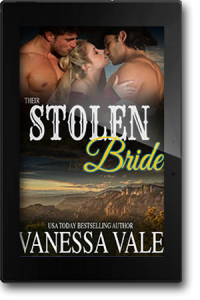 Their Stolen Bride – Book 7
Being a fake fiancé is not what either Parker or Sully have in mind. They will wed Mary and nothing else.
Parker:
A bargain made, he follows through and protects her… with marriage.
Sully:
Shooter Sullivan claims a bride.
Mary:
She only wanted a pretend fiancé, but ended up married to two men. One of them an infamous outlaw.
---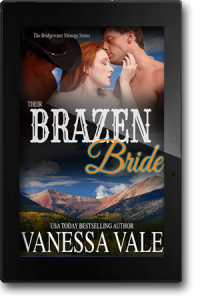 Their Brazen Bride – Book 8
Gabe and Tucker Landry have waited years for Abigail. They won't let something like a fiancé get in the way. Even if it means danger.
Gabe:
His patience can last only so long.
Tucker:
He'll protect her, whatever the cost.
Abigail:
She'll save her men at any cost.